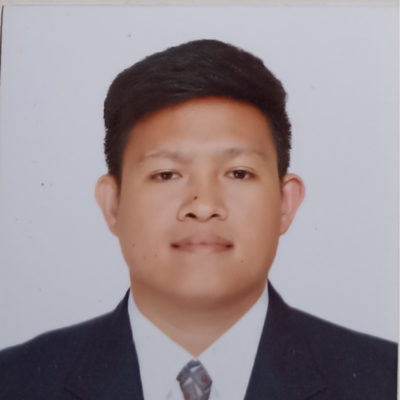 About me:

     If you notice the date I was hired is not successive up to this present, that's the time I'm taking responsibility
of the rented agricultural land by my parent's.We,siblings given a rotational duties to cultivate a half hectare
agricultural land.The main crop is palay,after  harvested the crop we will wait again for your turn.
     I have pack of experience working local and international, working with different nationalities specially with
the Japanese people which one of my previous employer.I am confident that the time spent in different industry
has prepared me for such an opportunity and I sincerely hope I can contribute soon as a member of your team.
   Please review my resume for a deeper look at my work history.I look forward discussing how my traits and
capabilities and work history to fit in your current job hiring.
     Thank you for your time and consideration.GODBLESS. 
Experience
No Name
December 2019 - Up to present
Farm worker
Maintain and Perform the daily tasks in the field including cultivating land using hand tractor's,grass
mower.sowing of seeds,irrigate,add fertilizers, control pests.My family are renting a half hectare agricultural
land.Despite the increase price of oil,gasoline,pesticides,herbecides,and fertilizers we take profit not to big at
least there's no loss.we produce quality rice.
Hitachi global life solutions inc.(Japan)
September 28,2018 - September 28,2019
Plastic molding injection work
•Intern Trainee
•Operate plastic moulding machine
•inspect produce products
•removing excess plastic
•assembly,putting parts of washing machine, dryer and ref.
•always meet the qouta every shift, with the proper cooperation with the team leader.
•night and day shift with a maximum overtime of 4hours per shift
Monde Nissin Corporation (Philippines)
September 27,2016 - March 11,2017
Production crew/packaging
•putting seasonings in cup noodles
•packing cup noodles.
•sorter of boxes and cup's used for exports.
ROBINSON SUPERMARKET (PHILIPPINES)
January 4,2016 - January 31,2016
Seasonal Merchandiser
•Store merchandiser
•setting up store products,arrange the displays cleaning and filling up the gondollas.
•greet ang assist the costumers
Robinson Supermarket(Philippines)
December 1,2015 - December 30,2015
Seasonal Warehouse Man
•checking delivery
•maintain orderliness and cleanliness of warehouse
•implementing the first in first out policy to avoid expired products.
Super Value Inc.(SM SUPERMARKET) PHILIPPINES
April 4, 2015 - August 31, 2015
Stock clerk
•checking delivery 
•checking inventory
•setting up the store products
•greet and assist the costumers
Education

Phil-NIPPON TECHNICAL COLLEGE
Japanese language course/machine operator 
N4 certificate
TESDA PROVINCIAL TRAINING CENTER
DOMESTIC REFREGIRATION AND AIR CONDITIONING 
National Certificate level 2
Pamplona National High School
Secondary 
Skills
C
Professionals who compete with Noel
Other users who are called Noel
Professionals from different sectors near Libmanan, Camarines Sur
Jobs near Libmanan, Camarines Sur
Found in: beBee S2 PH - 1 week ago

---

JOB ROLE · Operates Packing machines at its maximum rated production capacity, maintain machines' good and safe condition by doing necessary repairs, adjustments, and housekeeping. · Operate and monitor Roto packer; Perform housekeeping and proper turnover to incoming shift. · Ge ...

Found in: beBee S2 PH - 7 hours ago

---

CEMEX

City of Naga

CONTRACTOR

JOB PURPOSEThe incumbent will assist in the development and implementation of health and safety programs that ensure the transportation fleet (land and/or marine) and related facilities remains in compliance with all laws and regulations as well as company policies and standards ...

Found in: beBee S2 PH - 7 hours ago

---

Job Description · Process, source, identify and follow-up supplies requirements with the objective of ensuring availability of supplies according to specifications and cost-efficient targets within approved corporate purchasing policies and procedures. · Negotiate purchase of equ ...