1 year ago · 2 min. reading time · ~100 ·
Three factors that drive significant customer success
With the advent of the Internet and Cloud Computing, the business landscape has completely changed. It is driving the global economy at an increasing rate of change we have never seen in the past decades. In this era, repeated (or ongoing) business partnerships from existing customers are the most sought type of business relationship.
In the same breath, it opens the way for customers to move to another vendor if success is not met or delivered. It then becomes a global trend, business practice, and exerting great control in doing business.
It leads to this question: can customers still give their loyalty to the companies they are currently in business with? Can they still stick to a particular vendor? What is needed to keep their business? 
As an organization, we want our customers to stay satisfied, successful, and keep doing business with us. There are two key reasons why customers are going to stay and continue doing business with us. 
If they find a holistic and well-rounded end-to-end support 
If they feel [as customers], that the organizations or vendors [they partnered with] are willing to participate in their successes.
In this transformation or business change, CS has the influence and great advantage to improve, enhance, and impact the customers' goals, success, and growth. 
Speed + Innovation + Execution = CS
Most organizations consider value creation to be a prime process ─ and they should. Innovating at this rate means speed is paramount, and achieving success involves partners and enablers. No business or company can be successful focused only on its (own) success. 
Like the saying, no man is an island, holds an equivalent truth in business settings. In other words, organizations need to be part of a customer's world for them to thrive and succeed. If customers are not getting the support or there is a disconnect, neither party wins. Without this customer-centricity, it will be hard for an organization to provide the success customers are seeking and expecting. 
More than a job description, CS is how you feel responsible for the needs of your customers to meet and surpass their expectations. 
Ask yourself: Are you looking at [customer relationship] as a money-making machine, or do you (really) care about your customer success? You would know if you are selling solutions to people's problems, or are you just selling a product for the sake of a new business logo?
If you can think of your customer as a facilitator of your success, then serving customers will come naturally. Even if you do not have the role (CS) defined and implemented, successful organizations should have this success mindset embedded in their DNA.
Why? Because (customer) success is not reliant on role or function. It is the purpose and prime goal of each business. It only makes sense to ensure that customers find value based on the solution you created and developed. 
Otherwise ─ if you are selling a product without a clear understanding of customer needs, challenges, and how to achieve success using your solution, customers can recognize and identify what matters to your organization (which is the product, not their success). 
When the focus is on the customer, the business purpose shifts larger than what your platform or product can do. It helps you to derive the synergy between what you do and what your customers need. In other words, you are motivated not for your success but the success of your customers.
In one of his interviews, Brian Roberts CFO at Lyft said, "Lyft has been successful because we are singularly focused on improving people's lives with the world's best transportation, and we can make strategy calibrations on the hour.
As the pace of innovation accelerates, execution speed is everything."
Simply put, any activity that doesn't add value or support your customer's goal, stop doing it. Everything must work together and everything must serve the goal of helping and making customers successful. Including your business.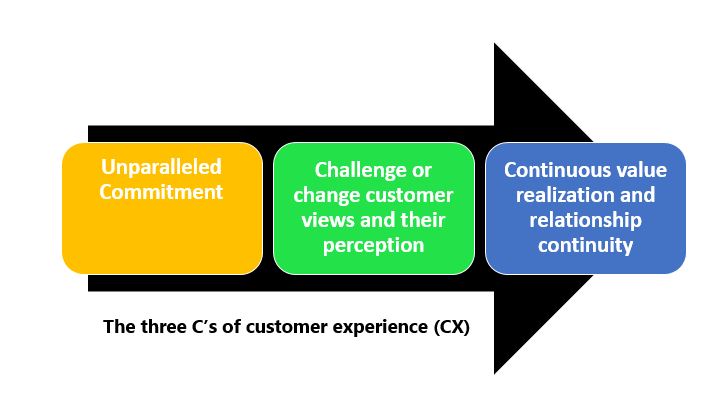 1 year ago · 3 min. reading time
How can we tell if a company is delivering a great customer experience? Or a proactive experience? H ...
You may be interested in these jobs